Kelsey
I was born and raised north east of Pittsburgh in New Kensington, PA, and have always been a fan of all Pittsburgh sports teams... but the Steelers are definitely at the top! My grandparents have had season tickets for over 50 years and I have been going to games since I was little. There is nothing better than being in Acrisure Stadium for Renegade waving my Terrible Towel!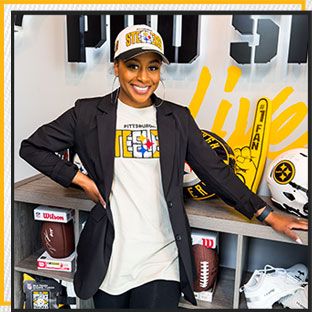 Cydney
Hey there, I'm Cydney! I was born and raised on the North Side, and have quite literally lived in the backyard of the Pittsburgh Steelers my entire life. As a former News Personality turned Producer/Lifestyle Influencer, I bring a wealth of experience, as well as passion for shopping & sharing with others. While I have always been part of the Steelers family all my life, I'm truly excited to be part of such a prestigious organization in a professional capacity and look forward to meeting all of Steelers Nation!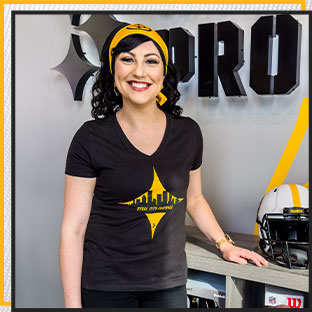 Debbie
Let's just say, I was born to wear black and gold! My love for the color-combo, football and hometown sports, began while cheering on the sidelines at my alma mater as the Gateway Gator mascot. Go Gators! Whether it's in-person at Acrisure Stadium, or in front of the TV screen, cheering for Pittsburgh sports has always been an exciting and comforting pastime of mine. Some of my fondest memories stem from Steelers playoff games and super bowl celebrations! I'm truly honored to be able to share this exciting experience with my family.